www.PersianClub.Ca
Victoria BC Canada
---
Helping Iranian Foreign Visa Students
Once an East Indian student and his family left the ignorance and discrimination of India for the greener pastures of Uganda. After a year of studying medicine at Shiraz Pahlavi University, the student offered his resignation to the university. When asked why, he explained how Idi Amin, the Ugandan dictator, blaming foreigners for his mismanagement, had seized his parent's farm, the parent could not send him any more money, and he could no longer afford his education. Shiraz Pahlavi University then gave him free tuition and room & board so that he could continue his studies. He finished his medical school, became a GP, and is now serving the community right here in Victoria. Quit a few of his patients are Iranians. He has learnt the Persian language, mastered the Persian music, and loves Googoosh. Shiraz Pahlavi University made the right decision then and the world is a much better place because of it.
Today the table has turned. Iran's economy is so bad and the currency is doing so poorly that the Afghan migrant workers are fleeing Iran to go back home to Afghanistan, for their currency, Afghani, is now more valuable than IRR.
With the Iranian Rial at a free fall and the US$ hovering around 10,000 T (100,000 IRR), Iranian foreign visa students have a hard time covering their education costs. Couple of them can not afford to come back to school after the Summer holidays.
We must help them out!
Here are a few practical suggestions on how the community can help the students:
- Give them an unused room you can not be bothered to rent out - Rent them a room in exchange for occasional babysitting or help & companionship for the elderly - Money transfer: When sending money to your parents in Iran, instead of using a currency exchange service, give CAD$ to students here in Canada & they deposit IRR to a bank account in Iran. Online bank money transfers are now done instantaneously; it can be done right in front of you. We can help the students out by giving them a favourable & reasonable exchange rate - Give them a job
- Donate money to a scholarship
- We can write letters to UVic/RRU/Camosun Student Awards & Financial Aid Offices explaining their plight and requesting a favourable look on their student-aid application
- Maybe UVic Persian Club & the انجمن can cooperate and hold a monthly disco night at the Vertigo for the community to come together, have fun, and raise funds for the students
- UVic, SUB Felicita's has a $500 prize to be won for the best party
- We can recommend them for free rent in exchange for house sitting
- Send us your suggestions or bring them to the next Persian Poetry Night

---
Victoria Iranian Community Demographic Survey
We need to have a better picture of the demographic of our community & your contact info. For that purpose, we have made a survey. Your responses are kept strictly confidential and are for the sole purpose of the community organizers to better plan & provide age-appropriate services as well as better communicate those services & community news to you.
Thank you for your cooperation!
For the residents of Vancouver Island, only.
Victoria Iranian Community Demographic Survey
---
Yellow Pages
Free listing of businesses & organizations in the Persian / Iranian community & the goods or services they offer
Email
us the Name/Address/Phone/Goods/Service/Website...
www.PersianClub.Ca
---
Persian Library
Persian Library has reopened with 86 Persian books at
Persian Kebab
Quadra @ View St.
www.PersianKebabVictoria.Ca
Self checkout; help yourself; check yourself out a book in the list provided.
We need book donations, if you would like to put your books into good use.
We also need magazine subscriptions; consider a donation
If you have out-standing books out on loan from the Persian Library, please bring them to the Persian Poetry Night
---
Persian Poetry & Literature Night
Aug session is cancelled
First Monday of every month, 7:00 - 9:00 pm
Community Living Victoria, 3861 Cedar Hill X Rd @ Cedar Hill Rd
Map
Please
submit
your poetry or prose talocate time
View Ad here
With many thanks to Mr.& Mrs. Paarsaa
Brought to you by Victoria Iranian/Persian Cultural Society
View Event
---
Persian Sunday School
Adults & Teenagers: 12:00-2:00 pm
6-12 Years Olds & Preschoolers (4-5 Years Olds): 2:00-4:00 pm
Second Floor, Fisher Building, Camosun College, Lansdowne Campus
Parking Lot 1, off Lansdowne St.
Map
For More Info:
email
Brought tyou by Hamid Banaee & Victoria Iranian/Persian Cultural Society
Soon to come: Kelaase' Akaaber & Madreseye' Pirmardhaa ;-)
You can also learn English, French, Persian... using Mango Languages an online language-learning platform, free to access with your GVPL public-library card. Hello, Bonjour, Salaam...

---
Food For Thought
Make Every Vote Count in BC!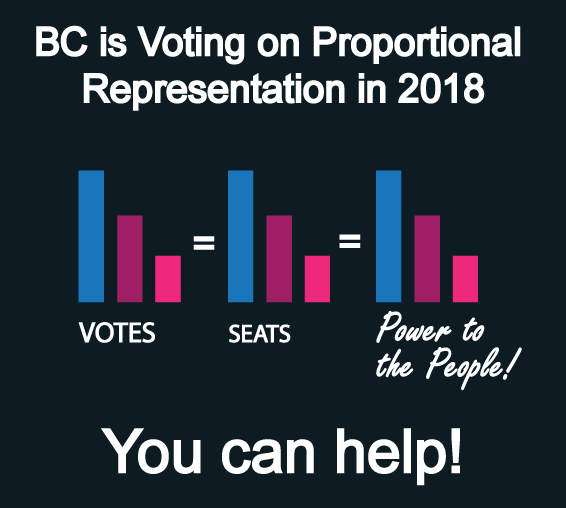 Get Involved with the Campaign to Make Every Vote Count in BC!
Pledge to vote for Proportional Representation in BC
Bring Democracy to BC
www.ElectoralReform.Ca
---
Khod Rahaagar, the bulletin of Hezb-e' Iran-e' Aabaad, argues that inoculating Iran against reproduction of dictatorship & winning the next revolution, is predicated on forming organized political parties. For the best analysis, read their PDF bulletin , watch newscast on YouTube , or listen to their podcast .

---